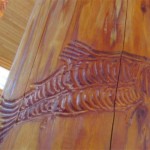 The ALECC conference has been held in Kelowna – plus a little time in Penticton – which is in the midst of its summer heat. Temperatures on Sunday forecast to reach 34c (93f)… good for the Okanagan fruit which is abundant at this conference and on every street corner. The conference has been beautifully thought out, with close attention paid to our food.
It began for me last Wednesday with a pre-conference outing to the En'Owkin Centre in Penticton, where a dozenish plucky souls gathered beneath the shade of a tree to hear conservation biologist Michael Bezener and Secwepemc (Shuswap) indigenous educator Henry Michel explain a bit about the ecology of the locatee lands (privately-owned lands within a larger reserve) on which we were walking. It's one of the last corners of natural riparian landscape in the Okanagan Valley – the rest having been built upon (largely strip malls, resorts and big box shopping from what I could see). The Okanagan River which runs through that corner of the land is being restored from its artificial "chanelling:" it had been deepened and straightened in the 1950s in order to reduce flooding of the homes that had been built in the area; unfortunately this destroyed the salmon spawning habitat that had existed and which is now coming back, since the flow had been gentled along more natural lines.
We went for a walk and started a writing exercise that we would finish later, but first we had to get to the En'Owkin Centre proper and meet some of the people who worked there, hear from the local indigenous publishers  Theytus Books (we heard the highly relevant legend of how food came to the world) while enjoying an Okanagan salmon lunch complete with local fruit crumble. Afterwards, we collected the salmon bones and skin from our lunch and joined Henry as he demonstrated (while singing a salmon song) the simple routine they practice there, of returning the salmon leavings to the river, then – dodging poison ivy – made our way back to the centre where we each found ourselves a quiet place to finish a piece of writing that responded to the land.
After reading our work to one another, we went inside to try to improvise a group poem, chatted a while longer and departed for our temporary home in residence at the very beautiful UBC Okanagan campus back in Kelowna.